Skyfall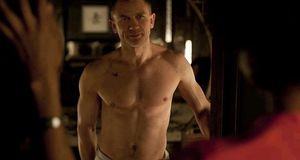 Episode 28
Friday, 3 August 2018
Though much is taken, much abides; and though
We are not now that strength which in old days
Moved earth and heaven; that which we are, we are;
One equal temper of heroic hearts,
Made weak by time and fate, but strong in will
To strive, to seek, to find, and not to yield.
It's James Bond's fiftieth anniversary, and so we're celebrating by introducing him to Q and Moneypenny, casting doubt on his fitness for the job, shooting him in the chest, burning his house down, and killing his Mum. Take it away, Adele!
See the film
Buy the Blu-ray of Skyfall. (Amazon US) (Amazon UK) (Amazon AU)
It's also available on iTunes, Google Play and Amazon Instant Video.
Follow us!
Brendan is on Twitter as @brandybongos, Nathan is @nathanbottomley, Todd is @toddbeilby, Richard is @RichardLStone and James is @ohjamessellwood. You can follow the podcast on Twitter as @Bondfingercast.
We're also on Facebook, and you can check out our website at bondfinger.com. And if you rate or review us on iTunes, we'll help you tidy up your ancestral seat in preparation for some long-awaited guests.