Dr. No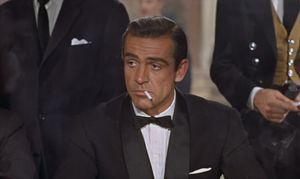 Episode 1
Saturday, 1 August 2015
– I admire your courage, Miss — ?
– Trench. Sylvia Trench. I admire your luck, Mr — ?
– Bond. James Bond.
Welcome to the first episode of our new podcast, Bondfinger. In this episode, Brendan, Richard, Nathan and James watch and discuss the first proper Bond film: Dr No (1962), starring Sean Connery, Ursula Andress and John Kitzmiller.
Bondfinger is a commentary podcast, so it's best watched alongside the film itself. Just press play when Brendan says now. Of course, you can also watch it on its own — on a boat at night heading out to the mysterious Crab Key, or while showering on a conveyor belt with Ursula Andress.
Bondfinger may contain drug and sex references, colourful idioms, adult themes, and artistically valid nudity. It's hard for us to remember after the fourth Vesper martini.
See the film
Buy the Blu-ray of Dr. No. (Amazon US) (Amazon UK)
It's also available on iTunes, Google Play and Amazon Instant Video.
Follow us!
Brendan is on Twitter as @brandybongos, Nathan is @nathanbottomley, James is @ohjamessellwood, and Richard's Twitter account was last seen tumbling down a cliff in a hearse and exploding for no reason. You can follow the podcast on Twitter as @Bondfingercast.
We're also on Facebook, and you can check out our website at flightthroughentirety.com. And if you rate or review us on iTunes, we'll slap on some unconvincing eye makeup and cook you some lovely Chinese food. No strings attached. Promise.