The World Is Not Enough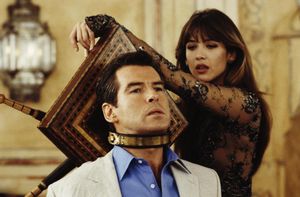 Episode 21
Friday, 3 November 2017
– I don't know. But the world's greatest terrorist running around with six kilos of weapons-grade plutonium can't be good. I have to get it back, or somebody's gonna have my ass.
– First things first.
After a series of violent and expensive elocution lessons, Robert Carlyle returns to the big screen as the villainous Renard, whose terrifying plans to destroy Istanbul nearly inspire Pierce Brosnan to attempt his first facial expression in his role as Bond. Oh, and Mummy gets tied to a bomb or something.
See the film
The World Is Not Enough is available for purchase on Blu-ray. (Amazon US) (Amazon UK)
You can also get it on iTunes, Google Play and Amazon Instant Video.
Follow us!
Brendan is on Twitter as @brandybongos, Nathan is @nathanbottomley, Richard is @RichardLStone and James is @ohjamessellwood. You can follow the podcast on Twitter as @Bondfingercast.
We're also on Facebook, and you can check out our website at bondfinger.com. And if you rate or review us on iTunes, we'll put you in touch with Goldie's orthodontist. Trust us, you won't be sorry.