Quantum of Solace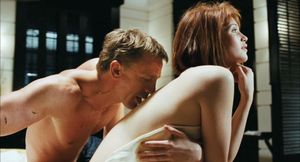 Episode 26
Thursday, 10 May 2018
Hello. We're teachers on sabbatical and we've just won the lottery.
After two years of doing commentaries on various versions of Casino Royale, Brendan, Nathan and James spring back into action with a totally incomprehensible but mercifully short commentary on 2008's Quantum of Solace.
Our writers are on strike, so that's all the show notes you get. So go and watch the alternative Quantum of Solace theme instead.
See the film
Buy the Blu-ray of Quantum of Solace. (Amazon US) (Amazon UK)
It's also available on iTunes, Google Play and Amazon Instant Video.
Follow us!
Brendan is on Twitter as @brandybongos, Nathan is @nathanbottomley, and James is @ohjamessellwood. You can follow the podcast on Twitter as @Bondfingercast.
We're also on Facebook, and you can check out our website at bondfinger.com. And if you rate or review us on iTunes, we'll cover ourselves in oil and surprise you in your hotel room.