Casino Royale (2006)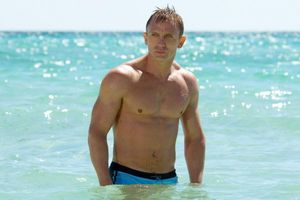 Episode 25
Saturday, 14 April 2018
– Vodka martini.
– Shaken or stirred?
– Do I look like I give a damn?
Hello, and welcome back to Bondfinger, the only James Bond commentary podcast consisting entirely of commentaries on various versions of Casino Royale.
This month, it's Daniel Craig's first outing as Jimmy Bond. Accompanied by sidekick Clarence Leiter (Jeffrey Wright) and love interest Eva Green (Ursula Andress), the American agent must defeat dangerous card shark Die Ziffer (Peter Lorre) in a psychedelic game of old maid that will take Jimmy to the very edges of sanity and beyond.
See the film
Buy the Blu-ray of Casino Royale. (Amazon US) (Amazon UK)
It's also available on iTunes, Google Play and Amazon Instant Video.
Follow us!
Brendan is on Twitter as @brandybongos, Nathan is @nathanbottomley, Richard is @RichardLStone and James is @ohjamessellwood. You can follow the podcast on Twitter as @Bondfingercast.
We're also on Facebook, and you can check out our website at bondfinger.com. And if you rate or review us on iTunes, we promise finally give Casino Royale a rest, and do a series of increasingly unhinged commentaries on Die Another Day instead.