Modesty Blaise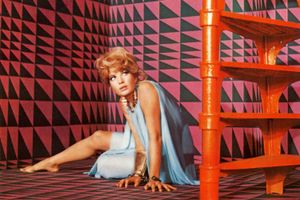 Episode 34
Friday, 1 November 2019
– Oh, I'm sorry about the explosion. It doesn't happen every day.
– I don't come every day.
This month, we're watching the camp 1966 spy-fi classic Modesty Blaise, starring a very attractive Italian lady, Dirk Bogarde and Bernice off Priscilla, Queen of the Desert. There's diamond smuggling, spycraft and racist comedy Arabs, but it's mostly all there to get in the way of the lovely location work in Amsterdam and Italy and the upsettingly psychedelic wallpaper.
See the film
No one seems to want this film on their streaming services or digital stores, for some reason, but you can still buy it on Blu-ray or DVD. (Amazon US) (Amazon UK) (Amazon AU)
Follow us!
Nathan is on Twitter as @nathanbottomley, Brendan is @brandybongos, Richard is @RichardLStone and James is @ohjamessellwood. You can follow the podcast on Twitter as @Bondfingercast.
We're also on Facebook, and you can check out our website at bondfinger.com. And if you rate or review us on iTunes, we'll consider rewatching this film until we undertand it enough to make up a funny and relevant promise to put in the show notes.