Chitty Chitty Bang Bang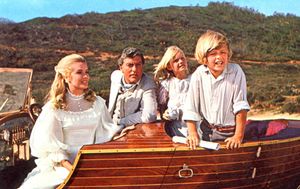 Episode 36
Wednesday, 25 December 2019
I don't trust a man who makes toys in a land where children are forbidden.
It's Christmas, and to celebrate we're heading back into James Bond territory by watching a film produced by Albert Broccoli, based on a novel by Ian Fleming and a screenplay by Roald Dahl. It's like You Only Live Twice with a much nicer car, and we love it: it's Chitty Chitty Bang Bang.
See the film
Buy the Blu-ray of Chitty Chitty Bang Bang. (Amazon US) (Amazon UK) (Amazon AU)
It's also available on iTunes and Google Play.
Notes and links
You can find some links and photos that we mention in this episode by going to its shownotes page.
Follow us!
Nathan is on Twitter as @nathanbottomley, Brendan is @brandybongos, Richard is @RichardLStone and James is @ohjamessellwood. You can follow the podcast on Twitter as @Bondfingercast.
We're also on Facebook, and you can check out our website at bondfinger.com. And if you rate or review us on iTunes, we'll marry both your father and his newfound wealth and we'll all be happy and blond together for the rest of our lives.