The Talented Husband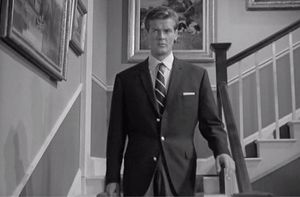 Episode 37
Saturday, 21 March 2020
Thank heaven for English theatre bars. We've had two acts of this play, complete suffering both onstage, and off.
This month, we head back to the earliest days of Rogertainment with the very first episode of The Saint (1961), in which Roger Moore teams up with a future Bond girl, the glittering Shirley Eaton, to thwart a serial wife-killer who will one day control every computer in the galaxy. Or something. It's all a bit confusing really.
See the episode
You can catch up with the episode on YouTube for the time being.
After that, you can buy it on Amazon Prime Video in the US, and as a DVD box set containing all the black and white episodes in the UK and in Australia.
Follow us!
Nathan is on Twitter as @nathanbottomley, Brendan is @brandybongos, Richard is @RichardLStone and James is @ohjamessellwood. You can follow the podcast on Twitter as @Bondfingercast.
We're also on Facebook, and you can check out our website at bondfinger.com. And if you rate or review us on iTunes, we'll buy you a pint from the barrel — warm, flat, nourishing and very British.