The Arrow of God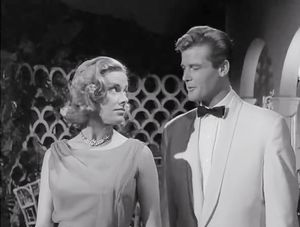 Episode 39
Saturday, 2 May 2020
– Well, well. The Saint, no less. I know a great deal about you.
– I'm flattered.
– Don't be. I follow your exploits with extreme distaste. That article about you in The Times last Sunday was the most nauseating thing I've seen in print.
– Tried reading your own columns?
This month, our tribute to Honor Blackman continues as we revisit the earliest days of Rogertainment with the seventh episode of The Saint — The Arrow of God. A gossip columnist and blackmailer has been murdered, but who is the perpetrator? Richard, with his history of embezzlement? Peter, who can't stop cheating at tennis? Nathan, with his dubious parentage? Or James, with his dark, bigamous past?
See the episode
You can catch up with the episode on Dailymotion for the time being.
After that, you can buy it on Amazon Prime Video in the US, and as a DVD box set containing all the black and white episodes in the UK and in Australia.
Follow us!
Nathan is on Twitter as @nathanbottomley, Richard is @RichardLStone and James is @ohjamessellwood. You can follow the podcast on Twitter as @Bondfingercast.
We're also on Facebook, and you can check out our website at bondfinger.com. And if you rate or review us on iTunes, then some day, when we realise how much you care for us, we'll reciprocate.