The Man with the Golden Gun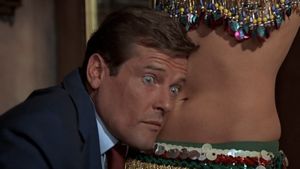 Episode 10
Sunday, 5 June 2016
– Good morning. How's the water?
– Why don't you come in and find out?
– Sounds very tempting, Miss, er…
– Chew Mee.
– Really? There's only one problem. I have no swimming trunks.
– Neither have I.
This month, Brendan, Richard and James shred to pieces one of Nathan's favourite Bond films, The Man with the Golden Gun. On the way, we discuss the casting couch, Roger's reluctance to learn the choreography, the inscrutable geography of Asia and the need for every Bond stunt from here on in to be performed to the sound of a slide whistle.
The Q and A with Sarah Douglas, star of Superman II, is at the Hayden Orpheum in Sydney's Cremorne, on 9 October 2016. See you there, perhaps.
See the film
Buy the Blu-ray of The Man with the Golden Gun. (Amazon US) (Amazon UK)
It's also available on iTunes, Google Play and Amazon Instant Video.
Doctor Who in Ten Seconds
Yes, I know we're not talking about Doctor Who, but fans of Brendan Jones will enjoy Doctor Who in Ten Seconds, in which he summarises every Doctor Who story in no more than ten seconds. You can find it here. It's terribly, terribly sweet.
Follow us!
Brendan is on Twitter as @brandybongos, Nathan is @nathanbottomley, Richard is @RichardLStone and James is @ohjamessellwood. You can follow the podcast on Twitter as @Bondfingercast.
We're also on Facebook, and you can check out our website at bondfinger.com. And if you rate or review us on iTunes or the Google Podcast Directory, we'll actually say some nice things about next month's Bond film.