The Spy Who Loved Me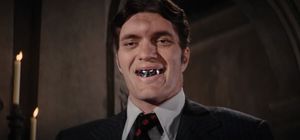 Episode 11
Saturday, 2 July 2016
– Oh, by the way, thanks for deserting me back there.
– Every woman for herself, remember?
– Still, you did save my life.
– We all make mistakes, Mr. Bond.
After a couple of fairly lacklustre films, the James Bond franchise roars back to life in the seminal Bond film of the 1970s: The Spy Who Loved Me. So, among the crude double entendres and Doctor Who references, there's a lot of admiration here: the frocks, Jaws, Barbara Bach's fabulous breasts, Bernard Lee's fabulous nose, and the biggest set in the biggest sound stage in human history.
As always, Bondfinger isn't really safe for work.
See the film
Buy the Blu-ray of The Spy Who Loved Me. (Amazon US) (Amazon UK)
It's also available on iTunes, Google Play and Amazon Instant Video.
Follow us!
Brendan is on Twitter as @brandybongos, Nathan is @nathanbottomley, Richard is @RichardLStone and James is @ohjamessellwood. You can follow the podcast on Twitter as @Bondfingercast.
We're also on Facebook, and you can check out our website at bondfinger.com. And if you rate or review us on iTunes, we promise to always keep the British end up, sir.
Doctor Who in Ten Seconds
On Bondfinger, we make it a strict rule to never mention Doctor Who, of course. But just this once, let's make an exception.
Brendan has just uploaded the latest episode of Doctor Who in Ten Seconds, in which he deftly summarises every story in Doctor Who's Season 4. Trust us, you'll love it.
And for more delightful Doctor Who–summarising whimsy, you can visit the webpage or subscribe on YouTube.