Moonraker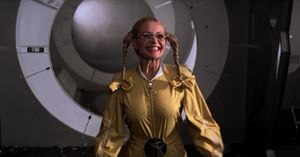 Episode 12
Saturday, 6 August 2016
Mr Bond, you persist in defying my efforts to provide an amusing death for you.
This month, Brendan, Nathan, Richard and James watch the widely reviled 1979 classic Moonraker, and to their absolute delight, they discover that it's actually really good. Of course, they also criticise some terrible kerning, wince at the series' most upsetting death, and wonder if Drax's guards can actually hear anything under all that.
Oh, and Brendan sings Joe Cornish's proposed theme for Quantum of Solace.
See the film
Buy the Blu-ray of Moonraker. (Amazon US) (Amazon UK)
It's also available on iTunes, Google Play and Amazon Instant Video.
Follow us!
Brendan is on Twitter as @brandybongos, Nathan is @nathanbottomley, Richard is @RichardLStone and James is @ohjamessellwood. You can follow the podcast on Twitter as @Bondfingercast.
We're also on Facebook, and you can check out our website at bondfinger.com. And if you rate or review us on iTunes, we will completely overlook that regrettable incident in Egypt where you bit out the throat of beloved English actor Nadim Sawalha.
Doctor Who in Ten Seconds
Since our last Bondfinger, Brendan has been hard at work on Doctor Who in Ten Seconds, which now covers the entirety of the 1960s. To catch Brendan's uniquely sweet and sardonic take on Doctor Who, or just to see him clad in skin-tight glittery spandex, just visit the webpage or subscribe on YouTube.