For Your Eyes Only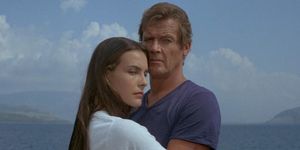 Episode 13
Sunday, 4 September 2016
– Mr. Bond! We can do a deal! I'll buy you a delicatessen in stainless steel! Please!
– Alright, keep your hair on!
– Put me down! Put me down!
– Oh, you want to get off?
This month, Brendan, Nathan, Richard and James decide to rein it all back in — we're dumping into a chimney the whole idea of taking over the world, and instead we'll just do a whole lot of skiing, rock-climbing and wrangling over a eighties-era electronic calculators. Oh, and punching Lynn-Holly Johnson in the face. For Your Eyes Only-y-y!
See the film
Buy the Blu-ray of For Your Eyes Only. (Amazon US) (Amazon UK)
It's also available on iTunes, Google Play and Amazon Instant Video.
Follow us!
Brendan is on Twitter as @brandybongos, Nathan is @nathanbottomley, Richard is @RichardLStone and James is @ohjamessellwood. Feel free to tweet at James with your podcast suggestions. You can follow the podcast on Twitter as @Bondfingercast.
We're also on Facebook, and you can check out our website at bondfinger.com. And if you rate or review us on iTunes, we'll totally award you a gold medal for breath control.
Doctor Who in Ten Seconds
Since our last Bondfinger, Brendan has been hard at work on Doctor Who in Ten Seconds, which now covers the 1960s and the first season of the 1970s. To see Brigade Leader Brendan gurn his way through the first seven years of Doctor Who, just visit the webpage or subscribe on YouTube.