Octopussy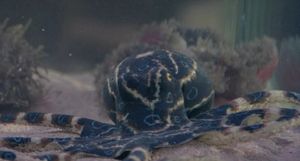 Episode 14
Saturday, 1 October 2016
– Is he still there?
– You must be joking! 007 on an island populated exclusively by women? We won't see him till dawn!
This month, we're throwing political correctness to the winds, and trying out every conceivable Indian stereotype. Brendan is sleeping on a bed of nails, Nathan is swallowing swords, Richard is charming snakes, and (strangely) James is dressing as Agnetha from the music video of SOS. It's the second best Bond film of 1983 (or is it?). Welcome to Octopussy.
See the film
Buy the Blu-ray of Octopussy. (Amazon US) (Amazon UK)
It's also available on iTunes, Google Play and Amazon Instant Video.
Follow us!
Brendan is on Twitter as @brandybongos, Nathan is @nathanbottomley, Richard is @RichardLStone and James is @ohjamessellwood. You can follow the podcast on Twitter as @Bondfingercast.
We're also on Facebook, and you can check out our website at bondfinger.com. And if you rate or review us on iTunes, we promise to give you enough cash to keep you in curry for a few weeks. (This promise should not be regarded as in any way legally binding.)
Doctor Who in Ten Seconds
We never mention Doctor Who on Bondfinger, of course, so you have probably never even heard of it. But if you have, you will certainly enjoy Brendan's video series Doctor Who in Ten Seconds, in which he summarises each Doctor Who story from the 1960s and 1970s in no more than 10 seconds. To watch the series, just visit the webpage or subscribe on YouTube.