Never Say Never Again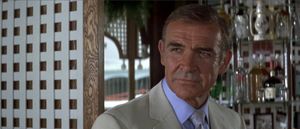 Episode 15
Saturday, 5 November 2016
– Good to see you Mr Bond. Things've been awfully dull round here. Bureaucrats running the whole place. Everything done by the book. Can't make a decision unless the computer gives you the go ahead. Now you're on this. I hope we're going to have some gratuitous sex and violence!
– I certainly hope so too.
For legal reasons, this month, Brendan, Nathan, Richard and James have decided to do a remake of Bondfinger Episode 4, with much more exciting lighting and production design and a much less coherent script. But all is not lost. Ladies and gentlemen, please welcome Max von Sydow, Rowan Atkinson and Pamela Salem to the world of Bond, and Never Say Never Again.
See the film
The Blu-ray of Never Say Never Again is ridiculously expensive in the US, and comparatively cheap in post-Brexit Britain. But, honestly, don't bother. (Amazon US) (Amazon UK)
It's also available on iTunes, Google Play and Amazon Instant Video.
Follow us!
Brendan is on Twitter as @brandybongos, Nathan is @nathanbottomley, Richard is @RichardLStone and James is @ohjamessellwood. You can follow the podcast on Twitter as @Bondfingercast.
We're also on Facebook, and you can check out our website at bondfinger.com. And if you rate or review us on iTunes, we'll somehow manage to fill that beaker you're holding from here.
Doctor Who in Ten Seconds
Brendan's currently on a secret mission to undermine the government of a tiny South Pacific nation, and so he's been unable to create a new episode of Doctor Who in Ten Seconds. But if you'd like to see him summarise his way through Doctor Who's first seven seasons, just visit the webpage or subscribe on YouTube.