A View to a Kill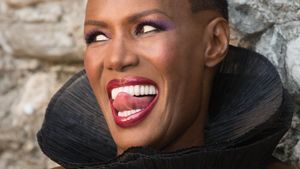 Episode 16
Friday, 20 January 2017
– Welcome sir, I'm Jenny Flex.
– Of course you are.
Well, it's our last ever Rodgecast, and we couldn't be more upset to see him go. (Although he only appears in this film for about five minutes: in most scenes he is played by one of a team of about three dozen stuntmen.) To console ourselves, we share a few bottles of bubbles, while we discuss flirting grandparents, pranking Roger in bed, the absence of Ken Adam, the worst actors to play Bond villains, the curse of Goldfinger, and the terrible disappointment of a flaccid zeppelin.
See the film
If you can tolerate buying yet another plastic disc, you can buy A View to a Kill on Blu-ray. (Amazon US) (Amazon UK)
It's also available on iTunes, Google Play and Amazon Instant Video.
Follow us!
Brendan is on Twitter as @brandybongos, Nathan is @nathanbottomley, Richard is @RichardLStone and James is @ohjamessellwood. You can follow the podcast on Twitter as @Bondfingercast.
We're also on Facebook, and you can check out our website at bondfinger.com. And if you rate or review us on iTunes, we'll think twice before breaking your precious Ming vase over an intruder's head.