Licence to Kill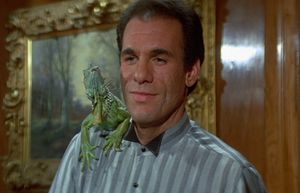 Episode 18
Saturday, 6 May 2017
When it gets up to your ankles, you're going to beg to tell me everything. When it gets up to your knees, you'll kiss my ass to kill you.
This week, we're still as dark and edgy as ever, but instead of commenting on a fun and witty espionage thriller, we're consumed by a thirst for revenge, like so many tiresome action heroes of the 1990s. There's also some stuff about cocaine mixed with petrol, which comes with so many warnings from the Surgeon General that you can barely fit them on the side of an oil tanker.
See the film
Licence to Kill is available for purchase on Blu-ray. (Amazon US) (Amazon UK)
You can also get it on iTunes, Google Play and Amazon Instant Video.
Follow us!
Brendan is on Twitter as @brandybongos, Nathan is @nathanbottomley, Richard is @RichardLStone and James is @ohjamessellwood. You can follow the podcast on Twitter as @Bondfingercast.
We're also on Facebook, and you can check out our website at bondfinger.com. And if you rate or review us on iTunes, we'll really give you a nice honeymoon. A proper romantic one, with flowers and martinis and things.