Goldfinger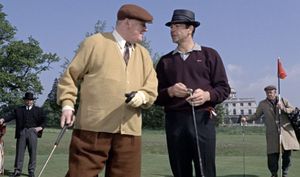 Episode 3
Saturday, 3 October 2015
No, Mr Bond, I expect you to die!
This month, Brendan, Nathan and James watch and comment on one of the all-time Bond classics: Goldfinger. On the way, we find ourselves discussing golfing without underwear, the joys of bourbon, exposition pool tables and, of course, Little James himself. Over and over again.
Roger Moore plays James Bond in this comedy sketch from 1964.
See the film
Buy the Blu-ray of Goldfinger. (Amazon US) (Amazon UK)
It's also available on iTunes, Google Play and Amazon Instant Video.
Follow us!
Brendan is on Twitter as @brandybongos, Nathan is @nathanbottomley and James is @ohjamessellwood. You can follow the podcast on Twitter as @Bondfingercast.
We're also on Facebook, and you can check out our website at bondfinger.com. And if you rate or review us on iTunes, we'll tell the stewardess liquor for three.