Thunderball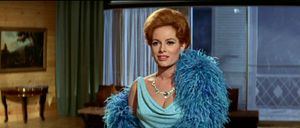 Episode 4
Saturday, 7 November 2015
But of course! I forgot your ego, Mr Bond. James Bond, who only has to make love to a woman and she starts to hear heavenly choirs singing. She repents and immediately returns to the side of right and virtue. But not this one.
In this episode, Brendan, Nathan and James head off to the irrigation therapy room to watch Thunderball. On the way, we tell you how to set off a nuclear bomb, try and pronounce the name Llewellyn, speculate about sexy grandfathers and watch carefully-trained sharks being brutally slaughtered.
You can read the Incredible Suit's review of Thunderball here.
See the film
Buy the Blu-ray of Thunderball. (Amazon US) (Amazon UK)
It's also available on iTunes, Google Play and Amazon Instant Video.
Follow us!
Brendan is on Twitter as @brandybongos, Nathan is @nathanbottomley and James is @ohjamessellwood. You can follow the podcast on Twitter as @Bondfingercast.
We're also on Facebook, and you can check out our website at bondfinger.com. And if you rate or review us on iTunes, we'll throw in a mink glove to reduce the tension (no we won't).