The Girl from Auntie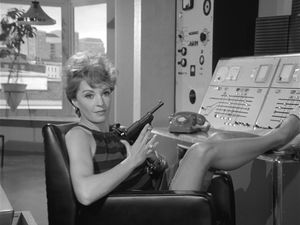 Episode 31
Saturday, 6 April 2019
– Steed! I thought you were an old lady with a bale and knitting needles.
– They do say I take after granny.
This month, we go back to Richard and Brendan's first love — 1960s spy-fi classic The Avengers. Brendan has taken up knitting, James is achieving better living through self-help books, Nathan is wondering why Graeme Garden left his computer here, and Richard is relaxing in a leotard and a giant birdcage. Watch out, everyone: it's The Girl from Auntie.
See the show?
The Girl from Auntie is the 17th episode of Season 4 of The Avengers. It's a bit hard to find now, to be honest, but the existing episodes have been released on boxed sets and can be found on your local version of Amazon. It can't be watched online, alas. I've tried.
Follow us!
Brendan is on Twitter as @brandybongos, Nathan is @nathanbottomley, Richard is @RichardLStone and James is @ohjamessellwood. You can follow the podcast on Twitter as @Bondfingercast.
We're also on Facebook, and you can check out our website at bondfinger.com. And if you rate or review us on iTunes, we'll knit you a lovely bungalow.