The Ipcress File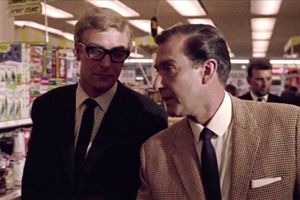 Episode 32
Sunday, 11 August 2019
– The Americans have put a tail on Palmer.
– Have they? How very tiresome.
This month, we head back in time to 1965. While James Bond is in the Bahamas enjoying some painfully slow underwater harpoon fights, Harry Palmer (Michael Caine) is having a much more prosaic time spying for the Ministry of Defence, trying to locate a kidnapped scientist. That is, until the psychedelia kicks in.
The Ipcress File was produced by Bond producer Harry Salzman. The score was by our very own John Barry, and the production designer was our beloved Sir Ken Adam.
See the film
Buy the Blu-ray of The Ipcress File. (Amazon US) (Amazon UK) (Amazon AU)
It's also available on iTunes and Google Play.
Follow us!
Brendan is on Twitter as @brandybongos, Nathan is @nathanbottomley, Richard is @RichardLStone and James is @ohjamessellwood. You can follow the podcast on Twitter as @Bondfingercast.
We're also on Facebook, and you can check out our website at bondfinger.com. And if you rate or review us on iTunes, we'll have you over for dinner and cook you some delightful foreign muck with capsicums in it.