A Touch of Brimstone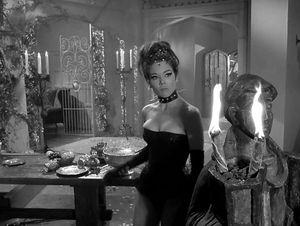 Episode 45
Saturday, 31 October 2020
– I've come here to appeal to you, Mister Cartney.
– You certainly do that!
This month, we all don our flattest Regency trousers and head underground for an evening of wrestling, wassailing and wenching to support the admirable cause of bringing down the British Government. And Peter Wyngarde is here too, looking as devilishly handsome as ever. It's Part 2 of our Diana Rigg marathon: the 1966 Avengers episode A Touch of Brimstone.
See the episode
Of course, Series 4 of The Avengers is also available in a lavish Blu-ray box set. Which is how we watched it. Again. (Amazon US) (Amazon UK) (Amazon AU)
Follow us!
Nathan is on Twitter as @nathanbottomley , Brendan is @brandybongos , Richard is @RichardLStone and James is @ohjamessellwood . You can follow the podcast on Twitter as @Bondfingercast .
We're also on Facebook, and you can check out our website at bondfinger.com. And if you rate or review us on Apple Podcasts, we'll give you one of these expensive cigars that were given to us by that lovely Mr Kartovski.