The Avengers (1998)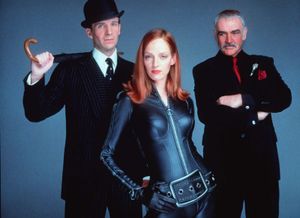 Episode 46
Saturday, 12 December 2020
Oh, I discovered then, nothing beats a good lashing. (Mind your head.) Take India. You can have a good ten inches overnight there. You know, one should never fear being wet.
This month, we commemorate the death of Sean Connery by revisiting the first nail in the coffin of his movie career, the 1998 film The Avengers, starring Ralph Fiennes and Uma Thurman as crude robot replicas of John Steed and Mrs Peel, who go up against the wet sporran of Connery's single most villainous role, Sir August de Wynter — a man who selflessly tries to provide the population of Great Britain with something interesting to make small talk about.
See the episode
Despite all this, The Avengers is not a bad-looking film. You can almost certainly find it — or a completly different film of the same name — on one of your streaming services. And the DVD is sort of still available (Amazon US) (Amazon UK) (Amazon AU)
Follow us!
Nathan is on Twitter as @nathanbottomley , Brendan is @brandybongos , Richard is @RichardLStone and James is @ohjamessellwood . You can follow the podcast on Twitter as @Bondfingercast .
We're also on Facebook, and you can check out our website at bondfinger.com. And if you rate or review us on Apple Podcasts, we promise not to eat the last macaroon.