No Time to Die (roundtable, with spoilers)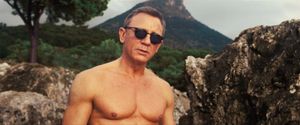 Episode 54
Thursday, 23 December 2021
Can I just have one nice evening before the world explodes?
After a disastrous attempt to record a commentary on No Time to Die results in several cinemagoers calling the police, we decide to regroup, get some drinks in, and hold a roundtable discussion of Daniel Craig's last film in the role. So: when SPECTRE holds a Christmas drinks thing despite Covid restrictions and everyone ends up feeling quite unwell, James Bond, Felix Leiter and 007 (it's complicated) team up (sort of) to find the renegade scientist responsible. A whole bunch of things happen, and a generation of Bond fans are scarred for life as a result.
Be warned. There will be spoilers.
Here is a link to the #IAmNotYourVillain campaign by Changing Faces UK, which calls on filmmakers to stop using scars and disfigurement as a signifier of villainy.
See the film
The film is currently screening in a cinema new you, at last. Streaming and DVDs and things will all come later.
Follow us!
Nathan is on Twitter as @nathanbottomley, Brendan is @brandybongos, Richard is @RichardLStone and James is @ohjamessellwood. You can follow the podcast on Twitter at @Bondfingercast.
We're also on Facebook, and you can check out our website at bondfinger.com. And if you rate or review us on Apple Podcasts, we won't suggest that the Bond producers abandon facial disfigurement as a signifier of villainy and start making all their villains avid podcast listeners instead.