Crossplot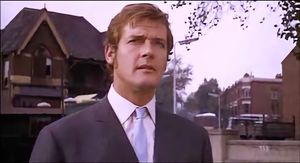 Episode 53
Friday, 29 October 2021
It's nothing much. It's only serious.
This month, advertising account executive Gary Fenn (Roger Moore) and fiery underwear model Marla Kougash (Claudie Lange) find themselves on the run as they try to foil a violent fascist takeover of Great Britain. Meanwhile Richard (Martha Hyer), James (Dudley Sutton), Brendan (Mark Ruffalo) and Nathan (an extremely rosaceous Sir Bernard Lee) take copious liquid advantage of the recent lifting of Sydney's lockdown by slurring their way through the long-forgotten quota quickie Crossplot.
See the film
The film is available for purchase through various online retailers, but it is currently available in full on YouTube.
Follow us!
Nathan is on Twitter as @nathanbottomley, Brendan is @brandybongos, Richard is @RichardLStone and James is @ohjamessellwood. You can follow the podcast on Twitter as @Bondfingercast.
We're also on Facebook, and you can check out our website at bondfinger.com. And if you rate or review us on Apple Podcasts, we won't turn up at your wedding, accuse you of bigamy and generally ruin your life.