The Interrogation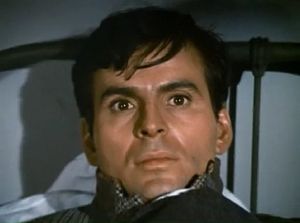 Episode 52
Sunday, 5 September 2021
– You're not the first person to pass through my hands, Stirling.
– I never thought I was.
– They all broke eventually.
– I'll try and spoil your record.
This month, James finds himself drugged, sweaty and trapped in a prison cell with a wastepaper basket and no visible means of escape, while Richard insistently questions him about the identity of the mysterious Renfield or something. Meanwhile, Brendan and Nathan flap about uselessly outside. It sounds like a job for The Champions.
See the episode
You can watch this episode for free on DailyMotion, for the time being. The whole series is also available on iTunes and Amazon Prime Video (in some regions).
Follow us!
Nathan is on Twitter as @nathanbottomley, Brendan is @brandybongos, Richard is @RichardLStone and James is @ohjamessellwood. You can follow the podcast on Twitter as @Bondfingercast.
We're also on Facebook, and you can check out our website at bondfinger.com. And if you rate or review us on Apple Podcasts, we'll forget all the grievances we have with you by the time the next episode airs.