Casino Royale (1967)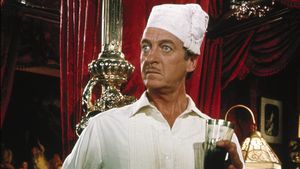 Episode 6
Sunday, 7 February 2016
It's vaporized lysergic acid: it's highly explosive!
What the hell just happened?
After a two-month mission infiltrating a volcano in Japan, Brendan, Nathan and James return to face their most puzzling mission yet: the inexplicable and sporadically entertaining dumpster fire that is the 1967 film Casino Royale.
See the film
Buy the Blu-ray of Casino Royale. (Amazon US) (Amazon UK)
It's also available on iTunes, Google Play and Amazon Instant Video.
Follow us!
Brendan is on Twitter as @brandybongos, Nathan is @nathanbottomley, Richard is @RichardLStone and James is @ohjamessellwood. You can follow the podcast on Twitter as @Bondfingercast.
We're also on Facebook, and you can check out our website at bondfinger.com. And if you rate or review us on iTunes, you'll be in the running to win the grand prize of starring in your very own incomprehensibly disjointed dance sequence in a Buddhist temple, or a big green thumbprint or, who knows, the Wild West or something, directed by some guy we met on the street just now, for the upcoming Bondfinger Productions movie Never Say Never Again, starring Ben Stiller as Sir Daniel Craig and Richard L Stone as Fatima Blush.