On Her Majesty's Secret Service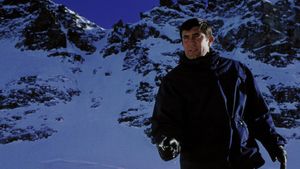 Episode 7
Saturday, 12 March 2016
— I find her fascinating. But, she needs a psychiatrist, not me.
— What she needs is a man… to dominate her! To make love to her enough to make her love him! A man like you!
Sean Connery's gone, never to return (never!), and so we find ourselves with a long-running film franchise starring Australian heartthrob George Lazenby and his amazing seven-film contract. What could possibly go wrong?
In the meantime, we discuss overworked foley artists, Diana Rigg's fabulous breasts (repeatedly) and Richard's prepubescent frisson encountering a shirtless Lazenby at a 1970s dinner party. All while continually preventing James from making endless Doctor Who references. Oh, James.
Here's the exchange of open letters between Diana Rigg and George Lazenby, apparently published in the Daily Mirror in 1970.
You should immediately follow George Lazenby on Twitter. He's crazily fabulous.
See the film
Buy the Blu-ray of On Her Majesty's Secret Service. (Amazon US) (Amazon UK)
It's also available on iTunes, Google Play and Amazon Instant Video.
Follow us!
Brendan is on Twitter as @brandybongos, Nathan is @nathanbottomley, Richard is @RichardLStone and James is @ohjamessellwood. You can follow the podcast on Twitter as @Bondfingercast.
We're also on Facebook, and you can check out our website at bondfinger.com. And if you rate or review us on iTunes, we'll give you the name of our oculist.