Diamonds Are Forever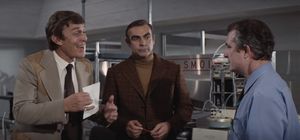 Episode 8
Sunday, 3 April 2016
– I'm Bambi.
– And I'm Thumper. Is there something we can do for you?
– I can think of several things, off hand…
Brendan, Nathan, Richard and James have each been paid £1.25 million to appear in this episode of Bondfinger, which means that we have no money left to pay Ken Adam, John Barry or any of the makeup girls. Sorry about that.
As always, Bondfinger is not safe for work.
See the film
Buy the Blu-ray of Diamonds Are Forever. (Amazon US) (Amazon UK)
It's also available on iTunes, Google Play and Amazon Instant Video.
Follow us!
Brendan is on Twitter as @brandybongos, Nathan is @nathanbottomley, Richard is @RichardLStone and James is @ohjamessellwood. You can follow the podcast on Twitter as @Bondfingercast.
We're also on Facebook, and you can check out our website at bondfinger.com. And if you rate or review us on iTunes, when love's gone, we'll lustre on. If that's actually a verb.