To Trap a Rat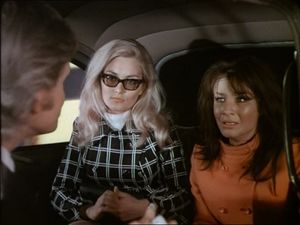 Episode 42
Saturday, 1 August 2020
– Well, it's going to be a lovely day.
– Why not, it was a lousy night. Where were you? I left a message for you at midnight.
– Chasing a bag of peanuts.
This month, our Kate O'Marathon commences with a 1968 episode of The Champions, in which Miss O'Mara does some light shoplifting in the hope of scoring some deadly crack for the weekend, and the four of us team up to use our slightly racist superpowers to stop her.
See the episode
You can watch this for free on Dailymotion, or in French (inexplicably) on YouTube. The series is also available on iTunes and Amazon Prime Video (in some regions).
Follow us!
Nathan is on Twitter as @nathanbottomley , Brendan is @brandybongos , Richard is @RichardLStone and James is @ohjamessellwood . You can follow the podcast on Twitter as @Bondfingercast .
We're also on Facebook, and you can check out our website at bondfinger.com. And if you rate or review us on Apple Podcasts, we'll use our psychic powers to help you escape from the hotel room they've got you locked up in so that you get the chance to score whatever stuff you need to get through the next agonising week.