Sherlock Holmes in New York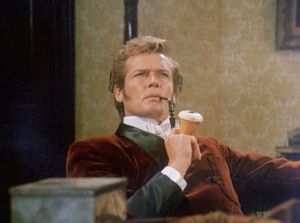 Episode 57
Sunday, 22 May 2022
– Ah, I make it just on half-past three.
– Eight, Holmes.
– What on earth are you talking about?
– Half-past eight, see.
– Watson, we are on New York time.
– Oh. Oh, well I've always found Greenwich time perfectly adequate to me needs. I see no reason for changing it now.
This month: New York! With a horribly miscast Roger Moore as Sherlock Holmes and a horribly misjudged John Watson in Patrick Macnee, Sherlock Holmes in New York is the story of a ruddy-cheeked and thoroughgoingly heterosexual consulting detective, his toffy-nosed dimwit sidekick, and their inexplicably beautiful girlfriend (Charlotte Derampling), who all harbour a dark secret, in the form of an appalling American moppet called Scott. Plus, all of the world's gold has been stolen, or at least shifted to a nearby floor. Which is why, dear listener, it took us two attempts to work up the courage to even watch this.
(Don't) see the film
If you want to spend some money here, a plastic disc release of the film is available. (Amazon US) (Amazon UK) (Amazon AU)
If not, it's currently up on YouTube, for some reason.
Follow us!
Nathan is on Twitter as @nathanbottomley, Brendan is @brandybongos, Richard is @RichardLStone and James is @ohjamessellwood. You can follow the podcast on Twitter as @Bondfingercast.
We're also on Facebook, and you can check out our website at bondfinger.com. And if you rate or review us on Apple Podcasts, we'll send you some unsolicited tickets to the opening night of our next show.