To Kill a Saint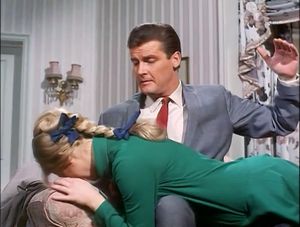 Episode 58
Saturday, 3 September 2022
– Will you do it?
– Of course. Nobody in the world is better-equipped to get rid of Simon Templar than me.
And we're back at last — a fresh slab of Rogertainment, with a couple of ripper Aussie sheilas along for the ride. When organised crime boss Robert Verrier's butler is unexpectedly exploded, he becomes convinced that Simon Templar is the killer. Hilarity ensues, of course, and Simon has no choice but to impersonate the assassin to uncover the real culprit.
See the episode
To Kill a Saint is available on YouTube (for the time being), complete with burned-in Hungarian subtitles.
The entire series was released on DVD in two box sets, one for the black and white episodes and another for the colour episodes. The colour episode box set, which includes this episode, is 14 discs of pure Rogertainment, designed to titillate the palette of the true Rodge connoisseur. (Amazon US) (Amazon UK) (Amazon AU)
Follow us!
Nathan is on Twitter as @nathanbottomley, Brendan is @brandybongos, Richard is @RichardLStone and Todd is @ToddBeilby. You can follow the podcast on Twitter as @Bondfingercast.
We're also on Facebook, and you can check out our website at bondfinger.com. And if you rate or review us on Apple Podcasts, we'll release our next Bondfinger episode with Hungarian subtitles.