The Long Goodbye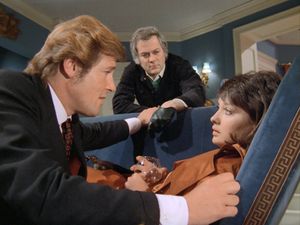 Episode 59
Saturday, 19 November 2022
Must be Christmas. Everyone wants to give me things.
A skeleton flies a plane into a Scottish forest, and in that plane Rodge and Tony find a secret formula that will make all fossil fuels obsolete! Soon people are throwing punches, girls and million-dollar contracts at them both, but with the mystery of the skeletal aviator still unsolved, they have no alternative but to wait for the fabulous Nicola Pagett to sort it all out for them.
The Rogertainment continues with Episode 13 of The Persuaders! (1972) — The Long Goodbye
See the episode
The Long Goodbye is available on YouTube somehow, along with the rest of the series.
Follow us!
Nathan is on Twitter as @nathanbottomley, Brendan is @brandybongos, Richard is @RichardLStone and Todd is @ToddBeilby. You can follow the podcast on Twitter as @Bondfingercast.
We're also on Facebook, and you can check out our website at bondfinger.com. And if you rate or review us on Apple Podcasts, we'll ignore our dead father's last wishes and read out the secret formula after the closing credits of the next Bondfinger episode.