Bullseye! (1990)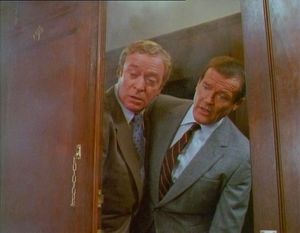 Episode 60
Saturday, 17 December 2022
– We're thieves, not spies.
– Thank you, Sidney. There goes our not guilty plea.
Weighing in at 18% on Rotten Tomatoes, our latest pinched loaf of pure Rogertainment is Bullseye!, a 1990 comedy starring Roger Moore and Michael Caine as two petty criminals pursuing a nuclear physicist and his patron, played by Michael Caine and Roger Moore. Hilarity ensues, probably.
See the film
Bullseye! was given a fairly lacklustre DVD release, which you can buy from Amazon in Australia (Amazon AU). Both delightfully and inexplicably, it's available to rent or buy on Amazon Prime Video in the US and the UK. (Amazon US) (Amazon UK).
Follow us!
Nathan is on Twitter as @nathanbottomley, Brendan is @brandybongos, Richard is @RichardLStone and James is @ohjamessellwood. You can follow the podcast on Twitter as @Bondfingercast.
We're also on Facebook, and you can check out our website at bondfinger.com. And if you rate or review us on Apple Podcasts, we'll ensure that the haggis you ordered is rigged to explode so that you don't have to eat the bloody thing.