What the Butler Saw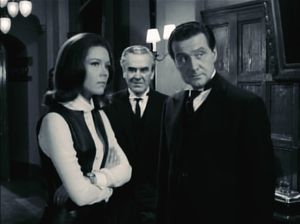 Episode 56
Sunday, 27 February 2022
– Actually, I wanted a word or five about the old Groupee, official magazine you know, I'm acting as PRO.
– From the HQ?
– BHQ.
– On TTR?
– JJV. seconded from RHB.
– Oh really, how's the GCM?
– A-1.
– MY?
– 50 PPR.
– Downgraded to 007, eh?
This month, Steed and Mrs Peel are joined by John Le Mesurier, while we are joined again by Steven B, ably assisting us as we investigate various military bigwigs with improbable facial hair, who appear to be leaking valuable secrets to our enemies. Meanwhile, Diana Rigg's Spotlight photo is getting one hell of a workout. Which is impossible to object to, really.
See the episode
As is now well established, Series 4 of The Avengers is also available in a lavish Blu-ray box set. Which is how we watched it. (Amazon US) (Amazon UK) (Amazon AU)
Follow us!
Nathan is on Twitter as @nathanbottomley, Brendan is @brandybongos, Steven is @steedstylin, Richard is @RichardLStone and James is @ohjamessellwood . You can follow the podcast on Twitter as @Bondfingercast .
We're also on Facebook, and you can check out our website at bondfinger.com. And if you rate or review us on Apple Podcasts, we'll sponge your best suit so thoroughly that you'll be able to see your face in it.