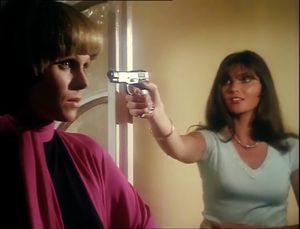 Episode 50
Saturday, 29 May 2021
– Do I look like a burglar?
– No. You look rather ch— Don't move, stay where you are, put your hands over your head and lean against the wall.
– Nor am I a contortionist.
This month, it's a queasy mixture of the Swinging Sixties and the Punching-People-in-the-Face Seventies, as Steed, Purdey and Gambit try to discover who is encouraging so many sweaty government security personnel to discotheque themselves to death, and why. It's The New Avengers in Angels of Death.
See the episode
No luck finding this one for free online, but the Region 2 version of the DVD box set is still available on Amazon. (Amazon US) (Amazon AU)
Follow us!
Nathan is on Twitter as @nathanbottomley, Brendan is @brandybongos, Richard is @RichardLStone and James is @ohjamessellwood. You can follow the podcast on Twitter as @Bondfingercast.
We're also on Facebook, and you can check out our website at bondfinger.com. And if you rate or review us on Apple Podcasts, we'll take you down the pub for a pint of beer. There are lots of pubs outside.